A Veggie Soup to Cure All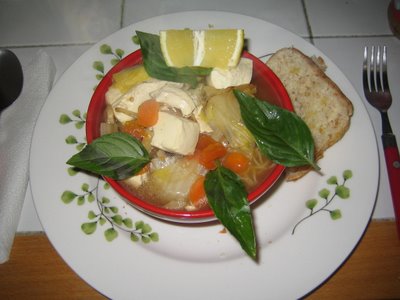 Chicken soup isn't the only soup that is a cure all, give this Veggie Soup with Tofu a try. Always think of soup if you have some veggies in the fridge, that you've run out of ideas of what to do with.
Ingredients
Cabbage
Carrots
Chopped onions
Vegetable broth
Salt
Ground Black Pepper
Tofu (2nd to last)
Rice noodles (soften it in hot water for 15 minutes)
Saute the onions in vegetable oil
Add water, carrots, cabbage
Let it boil until all the ingredients are soft and tender
Add salt and ground black pepper
Add the tofu, Add softened rice noodles
Garnish with some basil leaves
You're on your way to better health!
Labels: Soups