Apple Strudel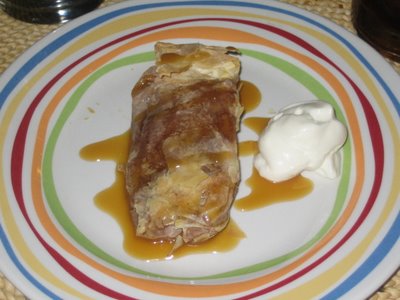 If you have a tree dropping lots of apples, or you bought a lot of apples and they're getting too ripe, it's time to turn these leftovers into apple strudel!
Here's all you need:
10 Apples
1/2 cup Brown Sugar
2 tablespoons Cinnamon
1 tsp Nutmeg
1 tsp Salt
2 tablespoons Butter
Dough (8 Phyllo sheets or any dough from the freezer section of your store)


Dice the apples
Saute them in a sauce pan in butter
Add brown sugar, cinnamon, nutmeg, salt
After 10 minutes, it will caramelize
Pour the mixture into the phyllo sheets. Add some more cinnamon (with sugar if you have it) to the phyllo doll
Roll the sheets up into a roll
Put on a baking sheet
Bake for 20 minutes at 370 degrees
Take out of the oven, cool, drizzle with a little caramel if you have it, and you are ready for a warm winter treat!
Labels: Desserts