A Summer Fennel Salad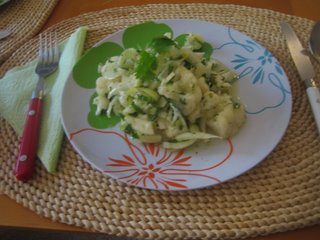 Here's what to do with healthy, but slighty boring cauliflower. Add a fennel, and some spices, and get a refreshing, simple summer salad.
Ingredients
12 Cauliflower florets
1 fennel bulb
sprigs of cilantro
3 green onions
1/2 tb dill
2 tablespoons Extra Virgin Olive Oil
1 tablespoon lime juice
1/2 tablespoon fish sauce
sugar, salt and pepper - dashes
Blanch the cauliflower in cold water, then crumble
Slice the fennel
Chop the cilantro and green onion and dill
Mix together
For the sauce
Mix the EVOO, lime juice, salt, pepper, fish sauce and sugar
Fold into the mixed vegetables
Enjoy!
Labels: Salads